MAKE A DIFFERENCE
Please keep in mind that great programs like these require your support. We couldn't do it without you. On behalf of the teens we serve, thank you so much for your help.
DONATE
Your support to The ROCK helps teens increase resilience, which is a key factor in teens experiencing happiness and success. Increased resilience helps teens to bounce back from adversity, work through challenges, and overcome obstacles.
The ROCK takes a strength-based approach with teens. When teens have a strength-based attitude to life it helps them shift from "what is wrong with me" to "what is strong with me". When teens understand their strengths and how to use them they are generally happier in school and at home, have better relationships, and achieve life goals.
Every $140 you donate provides a month of quality after-school experiences for teens. Every $450 you donate provides three teens with 18 hours of life skills and character development. When you make a donation, The Herbert H. and Grace A. Dow Foundation will match it 2 to 1 so your donation will go three times as far. Your gift will make a lasting impact. We promise you. On behalf of the teens we serve, thank you so much for your help. With gratitude on behalf of The ROCK teens, staff, and board, Beverlee Wenzel Executive Director
Your gift will make a lasting impact. We promise you. On behalf of the teens we serve, thank you so much for your help.
Volunteer
Volunteers are critical to our ability to fulfill the mission of The ROCK! We welcome volunteers with a wide range of skills and interests and we have opportunities for both adult volunteers and youth volunteers. If you want to volunteer your time and talent where you can make a difference to the community, The ROCK is ready! Please review the Volunteer opportunities below, complete and submit a volunteer application (below) and we'll contact you within the month. Some volunteer roles require a background check and training, based on the volunteer role in which you're interested. We look forward to having you as part of The ROCK Team!
Adult Volunteer Opportunities (Age +18)
Grounded (After-school Program) The ROCK has three after school locations including Jefferson Middle School, Northeast Middle School and The ROCK Underground at The Greater Midland Community Center. We need volunteers from 2:30 to 6:00 pm each day. You can help serve snack/meal, help with homework, play video games, do crafts or participate in a variety of ways. You can volunteer once a week, once a month, or as often as you wish! Unplugged Special Events The ROCK hosts and co-hosts several community-wide events each year. Opportunities for service range from setup, to managing registration, serving refreshments, cleaning up, taking photos…the roles are endless! If you're interested in being contacted to support a large event, let us know and we'll add your name to the roster! Administrative The ROCK offices are now located in the Midland Community Center and are open five days a week from 9:00 am to 3:30 pm. There is always much to be done to support the fantastic programs we offer to the youth. Volunteers can sign up to work for an hour or two at a time to assist with making copies, preparing activities, stuffing envelopes, data entry, etc.
Youth Volunteer Opportunities (6th through 12th Grade)
Youth volunteers are a huge help to The ROCK staff and volunteers and there are many opportunities available! The ROCK encourages youth to give back to The ROCK and the community. It's a great way to prepare for entry into the world of work and to have fun at the same time! Grounded (After-school Program) Youth volunteers are welcome to assist with a variety of tasks. Unplugged and Special Events Many hands make light work at The ROCK Unplugged and other special events! If you have an interest in helping to set up or tear down, represent The ROCK at an information table, act as a greeter, lead a craft, help run an inflatable, stuff envelopes, put up posters, or be a runner to help with whatever is needed, complete an application and deliver it to The ROCK office!
OTHER
We understand that not everyone is able to donate financially, so we found some ways you can help just by going about your everyday life. Please check out these programs we have utilized and see if it is something you could implement.
IT'S YOUR MOVE!
It's Your Move! is our year round fundraising campaign for our Grounded program. Each opportunity is simple and often low-cost. Each month, we'll add an event on our events page with details on that month's campaign.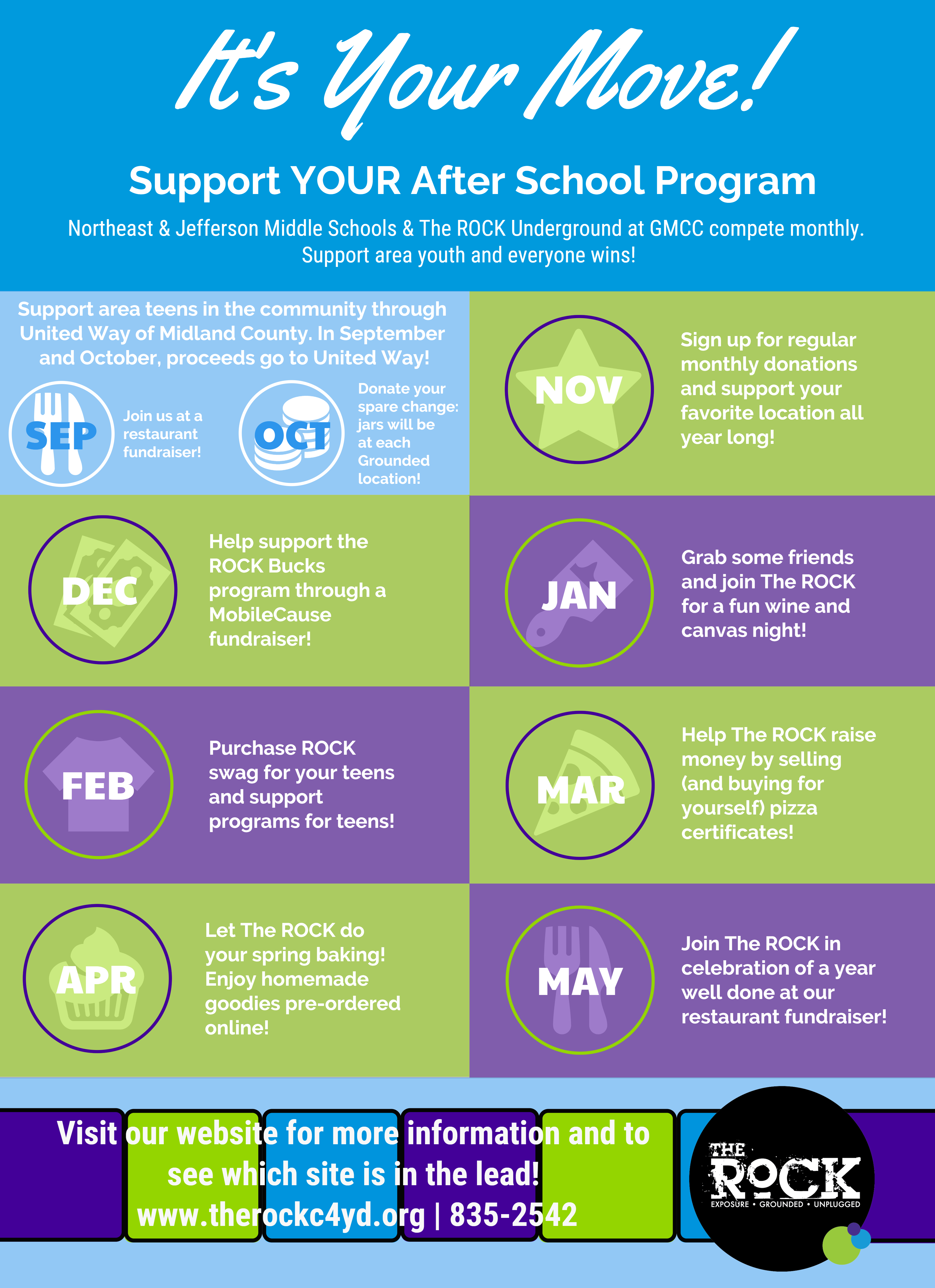 AMAZONSMILE.COM
If you shop at Amazon.com, switch over to AmazonSmile, choose "Reaching our Community Kids" as your charity and AmazonSmile will donate a percentage of your total to The ROCK!
KROGER REWARDS
If you shop at Kroger, pick up a rewards card and pick "Reaching Our Community Kids" as your charity. The ROCK receives a percentage of what you buy.
How it works:
if you do not already have a Kroger Plus card, pick one up the next time you shop at Kroger.
Go to www.krogercommunityrewards.com Click on "Create an Account"
Enter your information in the boxes provided then click on "Create Account"
Put in the card number from the back of your Kroger Plus Card then click "Save".
A screen with your information comes up next – go to the bottom and click on "Enroll" to enroll your card for Community Rewards
Type "Reaching" into the search box and click "Search"
Click on "Reaching our Community Kids" and then click "Enroll"
If you need help call Ginger at The ROCK at 835-2542
SCRIP
Scrip is simply a word that means "substitute money" – in other words, scrip is gift certificates from national and local retailers. They're the same gift certificates that you buy at the store. Many popular retailers participate in our scrip program including Ace Hardware, Home Depot, Olive Garden, Logan's Roadhouse and many, many more. (Click the Scrip Brand Report to see a list of all active businesses) Scrip participating retailers agree to sell gift certificates to our organization at a discount. Families like yours buy the certificates for full face value, then redeem them for full face value, and The ROCK keeps the difference as revenue. Scrip is exciting, because everybody wins.
The beauty of scrip is that you put your regular household shopping dollars to work. You earn money for The ROCK without spending a single additional penny. Just spend your regular shopping dollars with scrip at the stores that participate in the scrip program! Scrip can be used for just about any household purchase including food, gas, clothing, entertainment, and even dining out.
How it works:
Pick up a Scrip order form from a ROCK staff person at your after-school site or click the button below to download an order form
Fill out the form
Turn order form with check for payment into ROCK Staff
Pick up your cards from The ROCK offices the following week
Spend your cards!
We encourage you to participate in this on-going fundraiser and help us exceed our goals. If you have questions, please contact Ginger at 989-835-2542. Thank you in advance for your support.