PROGRAMS
The ROCK has three umbrella programs, Exposure, Grounded, and Unplugged. While each of these programs serves a unique and critical need, they are highly interdependent and complementary of one another and most importantly, they support the identified needs of the youth in our community.
GROUNDED
After school programs
3 locations, thousands of visits
ROCK Grounded is productive after school programs that instill confidence and a sense of belonging, provide mentorship, tutors, games, activities, food, and a safe place for teens.
Homework Help & ROCK Bucks

One of the areas parents express a significant amount of gratitude for is the daily homework help. During the Grounded Program, we give students the opportunity to receive assistance from a tutor. Tutors are generally active students at Northwood University or other area universities and are interviewed, selected, background checked, and trained by The ROCK just like our Youth Development Specialist.

Tutors keep track of the number of hours each student does homework. Over 3,500 hours were logged in the 2016-17 school year. Students earn a ROCK Buck for every hour they do homework with a tutor, which they can spend at The ROCK store monthly or they can save them to cover entry fees at ROCK Unplugged events. Last year one student saved her ROCK Bucks and paid, in full, for her trip to Cedar Point with The ROCK!

Many parents and teachers have shared increased grades and confidence in youth. Parents share that stress is relieved at home because they don't have to spend their precious and limited evening family time doing homework. Parents and teachers are invited to contact The ROCK staff regarding homework help for their students if needed or if you have any questions.

|

Code of Conduct

At The ROCK
The emotional and physical safety and well-being of our youth is our main priority.
Participation in ROCK programs will be a positive experience for everyone.
All interactions with youth, parents, school staff, staff members, volunteers, or community members will be for the ultimate benefit of the youth and the community.
The following behaviors are unacceptable during ROCK programs:
Bullying or taking unfair advantage of any participant.
Discourtesy or rudeness to a fellow participant, staff member, or volunteer.
Verbal, physical, or visual harassment of another participant, staff member, or volunteer.
Actual or threatened violence toward any individual or group.
Endangering the life, safety, health, or well-being of others.
Failure to follow any ROCK policy or procedure.
Failing to cooperate with an adult supervisor/leader/mentor.
Possession, use of, or being under the influence of alcohol or illegal drugs.
Possession of dangerous or unauthorized materials such as explosives, firearms, weapons, or other similar items.
|

Staff Qualifications

It takes a highly qualified person to make something look easy. The ROCK staff do that every day. When you walk past a ROCK program and see teens running, laughing, yelling, and having fun please don't think for a second that it is out of control and no one is in charge. Consider replacing those thoughts with "Wow, The ROCK team makes this look easy and it is impressive that they can operate safely and efficiently like that."

Before a person can become a member of The ROCK staff they are interviewed, references are contacted, and background checks are completed. Staff members are intentionally hired and trained for the position of Youth Development Specialist. They are exceptional individuals who truly care about teens and work diligently to insure the safety and well-being of every youth in our programs.

The title "Youth Development Specialists" was chosen because that is who they are and what they do. They specialize in youth development.

Professionals are trained and developed and that happens at The ROCK as well. Staff undergo an initial week of trainings. Throughout the year, staff have scheduled professional development days. Staff are taught positive youth interaction, engagement, and inclusion, fair discipline methods, crisis management, building individual resilience and leveraging strengths. Team leaders are also CPR and first aid certified. Tutors are generally university students or volunteers and go through similar training.

Each after-school site has an experienced Site Coordinator, Team Leader, and benefits from the over-sight of The ROCK Grounded and Unplugged Program Director, Lacey Wright. Excellent, qualified people are the key to our success and the success of the teens we serve.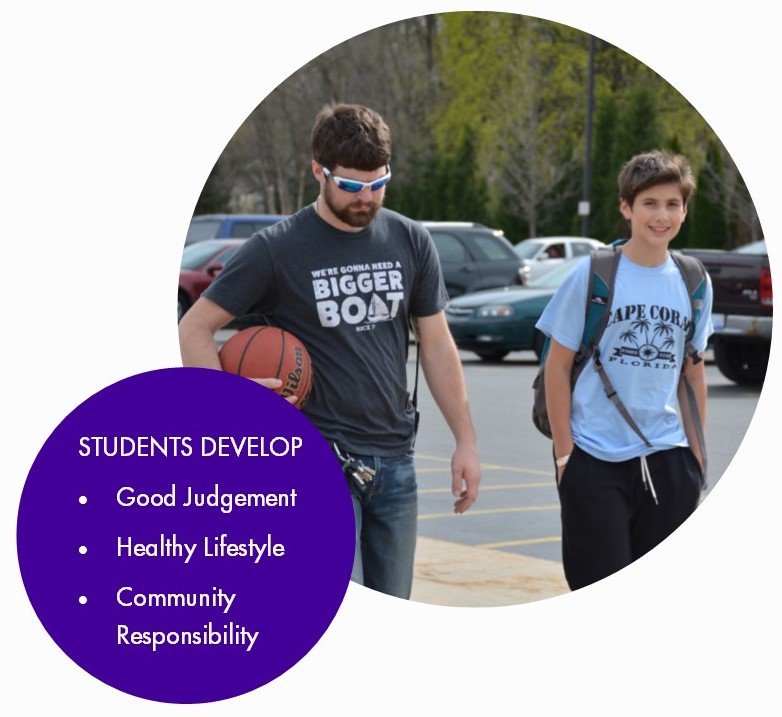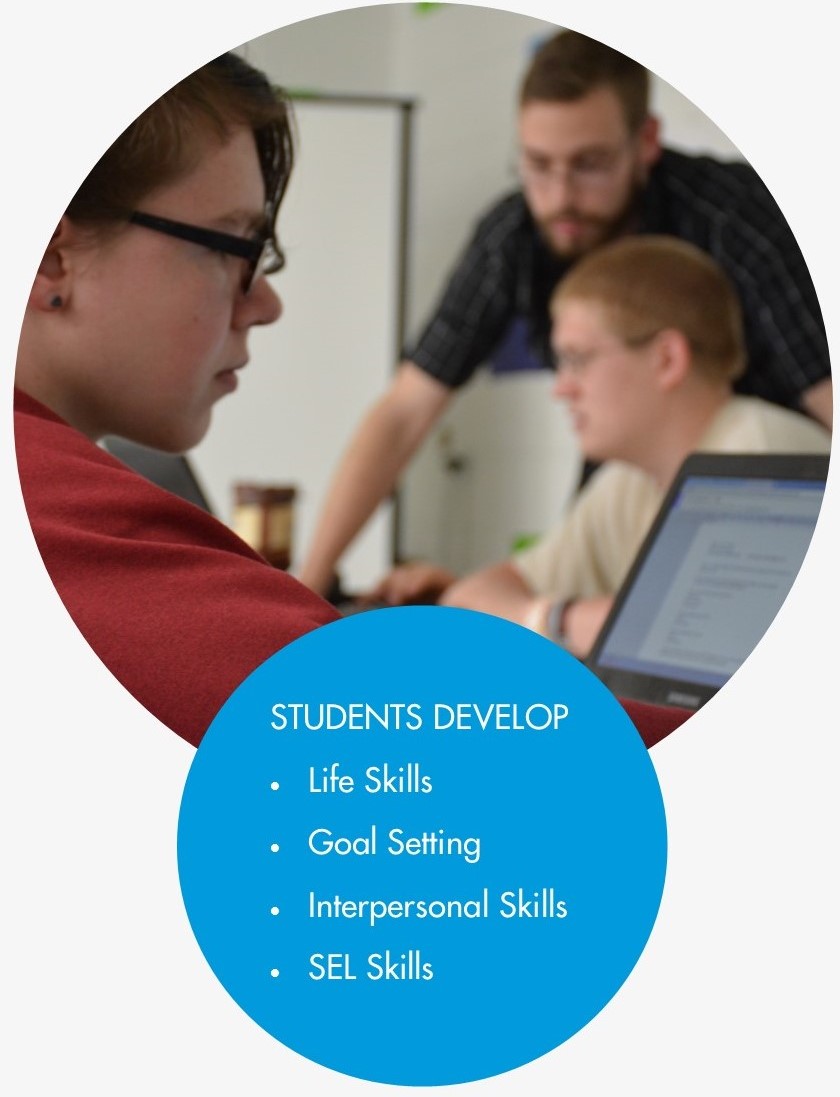 EXPOSURE
Life skills and character development
4 school districts, thousands of students
ROCK Exposure is a proven program that provides experiential learning opportunities which foster character, build tangible life skills, provide relevant tools, and empower young people to create a vision and plan for their future.
Curriculum

Drive: Good Character Students learn how their behavior and choices impact their lives. They develop tools for success including character development, interpersonal skills, goal setting, and citizenship. Hours: 18 (Can be varied) | Grades: 6-9

Perform: Getting Results Students identify their personal goals, determine what success means to them, and create a plan for achieving those goals. While building self-confidence they consider courage, grit, forgiveness, and the impact they have on the world. Hours: 18 (Can be varied) | Grades 9-12

Build: Tools for Success Students increase their understanding of themselves and their strengths while creating a vision and priorities for their future. They build their self-esteem, awareness of their community, and communication skills. Hours: 30-45 (Can be varied) | Grades: 9-12

Accelerate: The Real World Students prepare to live as independent and successful adults through exploring resource management, housing, transportation, and healthy habits. They explore college and trade opportunities, and receive assistance navigating those arenas. Hours: 12-18 (Can be varied) | Grades 10-12

GEMS: High school girls mentoring middle school girls. Young women address relevant issues through peer-to-peer and traditional mentoring allowing them to build self-esteem, life-skills, and resources to succeed in school and throughout life. Hours: TBA | Grades:6-12

LevelUP: Employment Skills Students learn skills to increase their likelihood of obtaining, keeping, and excelling in employment. Successful completion of the program guarantees the student a job interview. Hours: 16 | Grades:10-12

Focus: Unlocking Your Potential Provides tools and direction to encourage individual teens to unlock their potential through an intentional process. Hours: 12 | Grades:6-12

|

Current Venues
Academic and Career Education Academy (ACEA)
Bullock Creek High & Middle Schools
Coleman 7-12 School
H. H. Dow High School
Jefferson Middle School
Meridian High School
Midland County Day Treatment
Midland High School
Northeast Middle School
The ROCK at GMCC
Pilot programs in Bay and Saginaw Counties
|

Exposure Report

Stephanie Wolf | The Legacy Center for Community Success

Starting in the fall of 2013 and running through the spring of 2014, 83 students participated in The ROCK Exposure program. The students participating included 9th, 10th, 11th and 12th graders from four area high schools. The four high schools were Meridian High School; Bullock Creek High School; the Academic & Career Education Academy (ACEA), the alternative high school in Midland; and the Wenona Center, the alternative middle and high school in Bay City.

The ROCK Exposure program is an original program that focuses on teaching students life skills and character development to build upon each student's Developmental Assets. The same ROCK Exposure program was taught at all four schools with different instructors. The results presented below are summarized for the entire group of participants.

Students participating in The ROCK Exposure program were surveyed before the program began and after the program ended in order to collect basic demographic information and to assess their levels of Developmental Assets. The pre-test mean composite scores for the students fell within the FAIR or GOOD range for all of the Developmental Asset categories measured (Support, Empowerment, Boundaries and Expectations, Constructive Use of Time, Commitment to Learning, Positive Values, Social Competencies, and Positive Identity).

As a group, the students scored higher in all eight Developmental Asset categories after participating in The ROCK Exposure program. This difference was statistically significant for all eight of the categories, thus showing that The ROCK Exposure program curriculum positively impacts students. This suggests that the students are more likely to help others, have adult role-models, build friendships, avoid bad choices such as alcohol, tobacco and drugs, have a higher self-esteem, and develop a more positive view of their future after participating in this program.

To read more click here.
UNPLUGGED
After hours activities and events
Many locations, thousands of visits
ROCK Unplugged is community-based teen evens that encourage healthy life choices and relationships, create a sense of community awareness, and allow teens to engage is safe, supportive social activities.
Event Examples
Summer Camps
Pool Parties
Lock-Ins
Movie Showings
Roller Skating Nights
Sledding Nights
Volunteering Events